---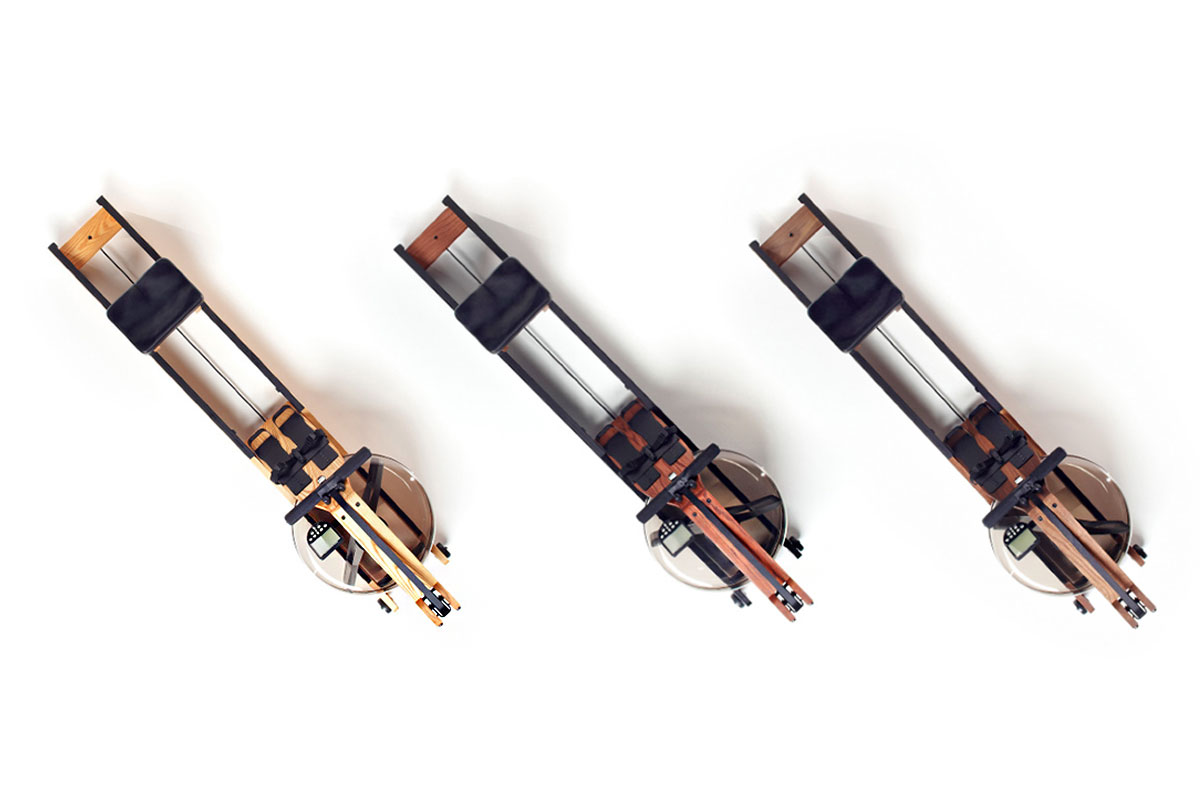 ---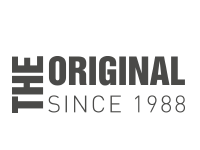 ---
The Original
The WaterRower was invented by John Duke in 1988. The American rower developed the rowing machine's easy function and timeless design from the basic idea, that dry land training should simulate the given conditions on water as closely as possible.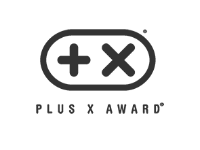 ---
Outstanding Design
Timeless appeal and prestige: the WaterRower rowing machine received the PlusX Award for its unique design and was also the only piece of sports equipment on display at the Design Museum of London.

---
Rowing Software
Connect, free of charge, with We-Row and race against other WaterRower owners. Or, if you prefer, set up your own private workout. You can access We-Row and store your data at any time, allowing you to chart your progress and also share with other users.
Functional design right down to the last detail
WaterRower rowing machines have been manufactured with the utmost care and passion for detail for more than 25 years. Our machines stand for design in your home interior, at the workplace and in the fitness studio.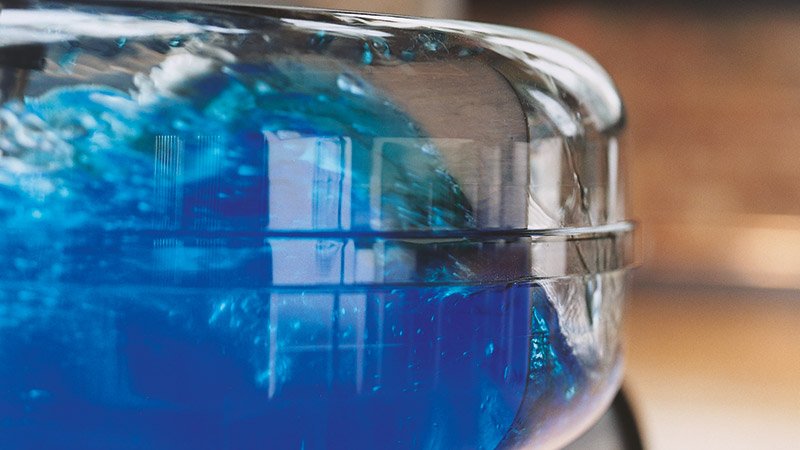 Soothing Flow of Water
The WaterRower's resistance is generated in its unique water tank element. No manual adjustment is necessary to increase/decrease resistance, it precisely adjusts to the user's movement and strength input.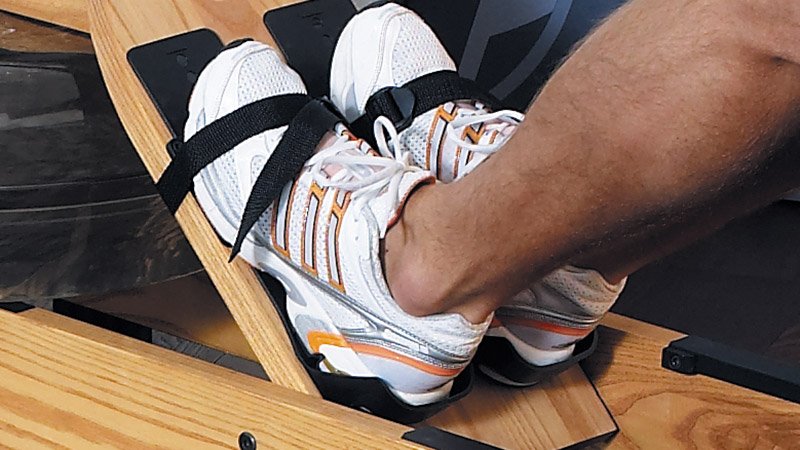 Convenience
The foot board offers the highest level of flexibility when in an optimal rowing position. The ergonomic foot pads and straps are both individually adjustable, guaranteeing maximum comfort.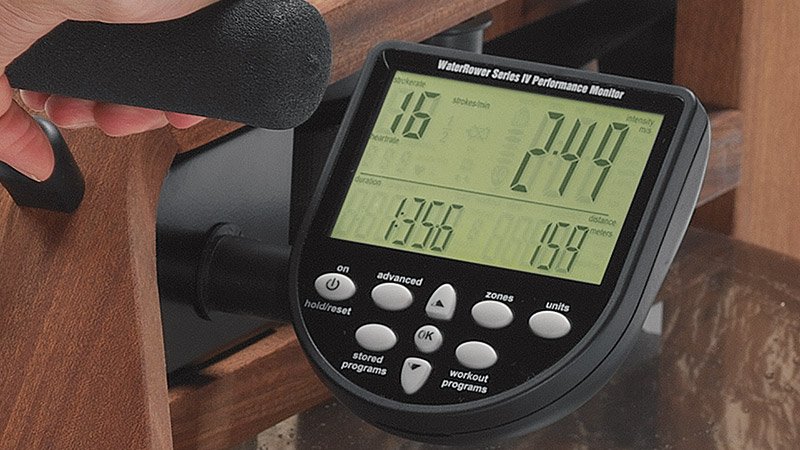 Performance
The sleek S-4 performance Monitor can be connected to your PC and used with the We-Row software, which is free of charge. The monitor displays all necessary data in one screen during your row.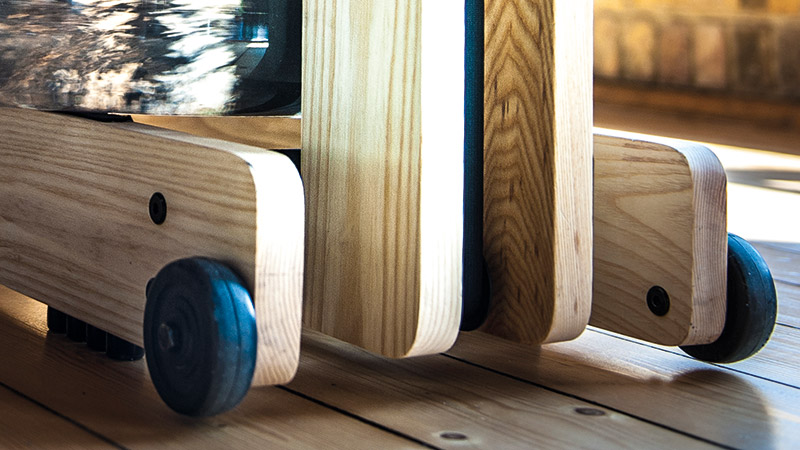 Frame
The extremely durable, rubber feet provide protection and skid resistance for all types of flooring. The rails are also available in XL length, recommended for > 2 meters body length.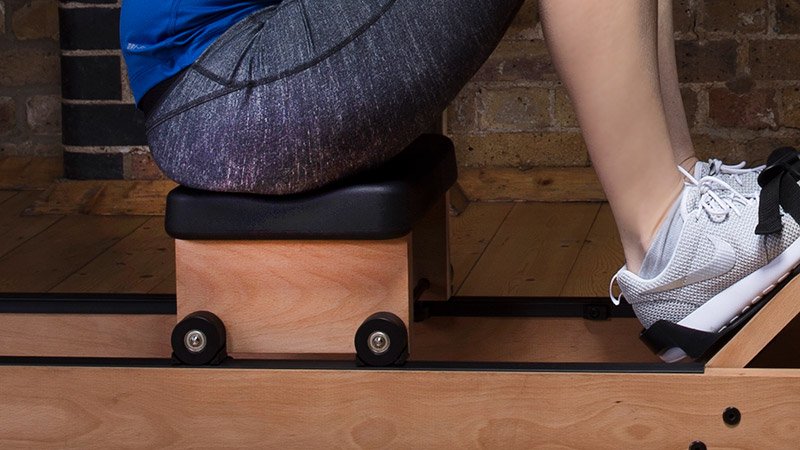 Glide
During your workout the seat glides silently on the rails, according to your rowing stroke. Eight ball bearing mounted rolls made of anti-abrasion polyurethane ensure perfect rolling on the rails. The seat is ergonomically cushioned, further providing comfort during use.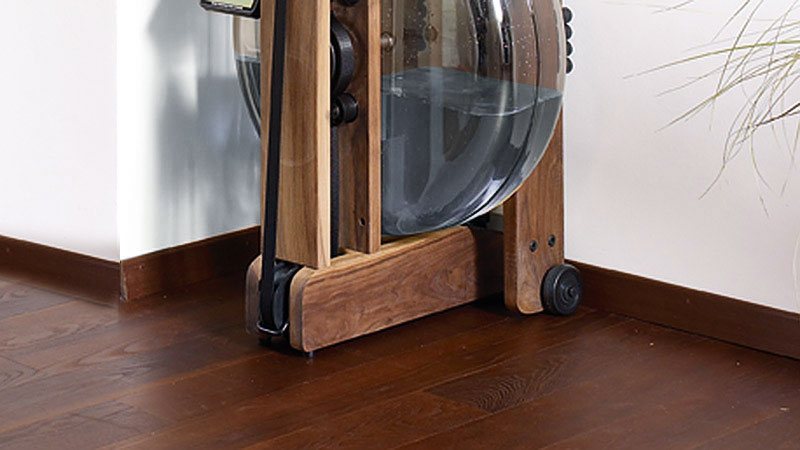 Space-Saver
In an upright position, the WaterRower occupies no more space than a chair. Its center of gravity lies at the water tank which enables you to lift it effortlessly at the rail-end. In any position, the water remains safely in the tank.
Multi models - one technology
Various select woods and materials of identical, top quality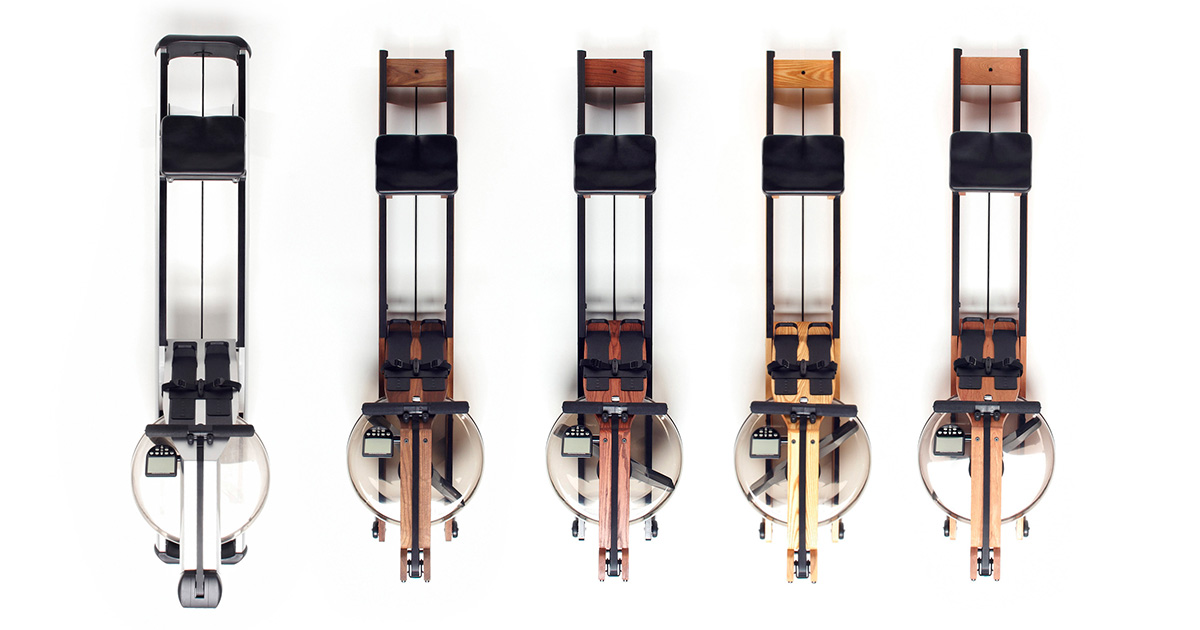 ---
Choice of materials for your frame
WaterRower rowing machines are manufactured in solid ash, oak, cherry and walnut wood. Further models in stainless steel are also available.
We ensure highest standard of quality on all models - regardless of whether intended use is in the home, rowing club or fitness studio.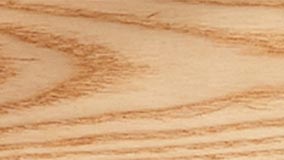 Ash

Club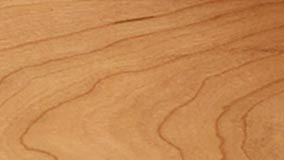 Cherry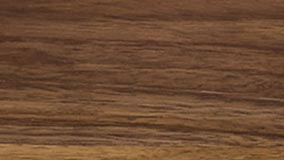 Walnut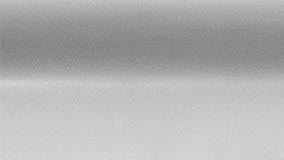 Aluminum
The WaterRower water resistance
Quiet and extremely effective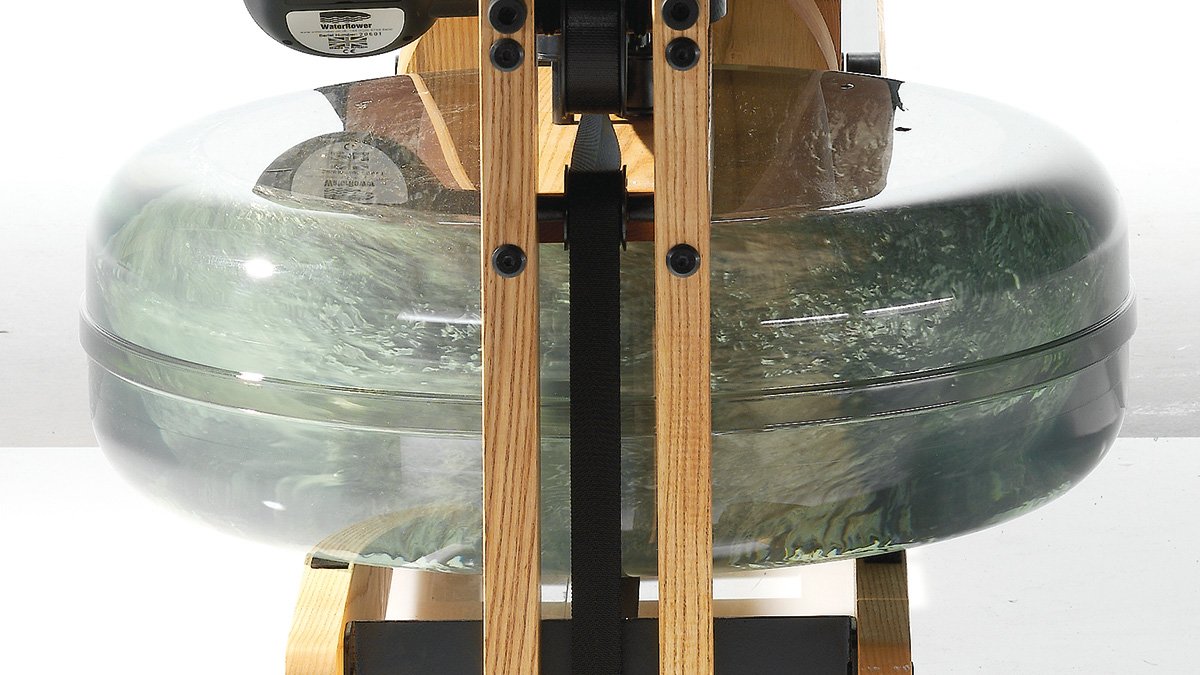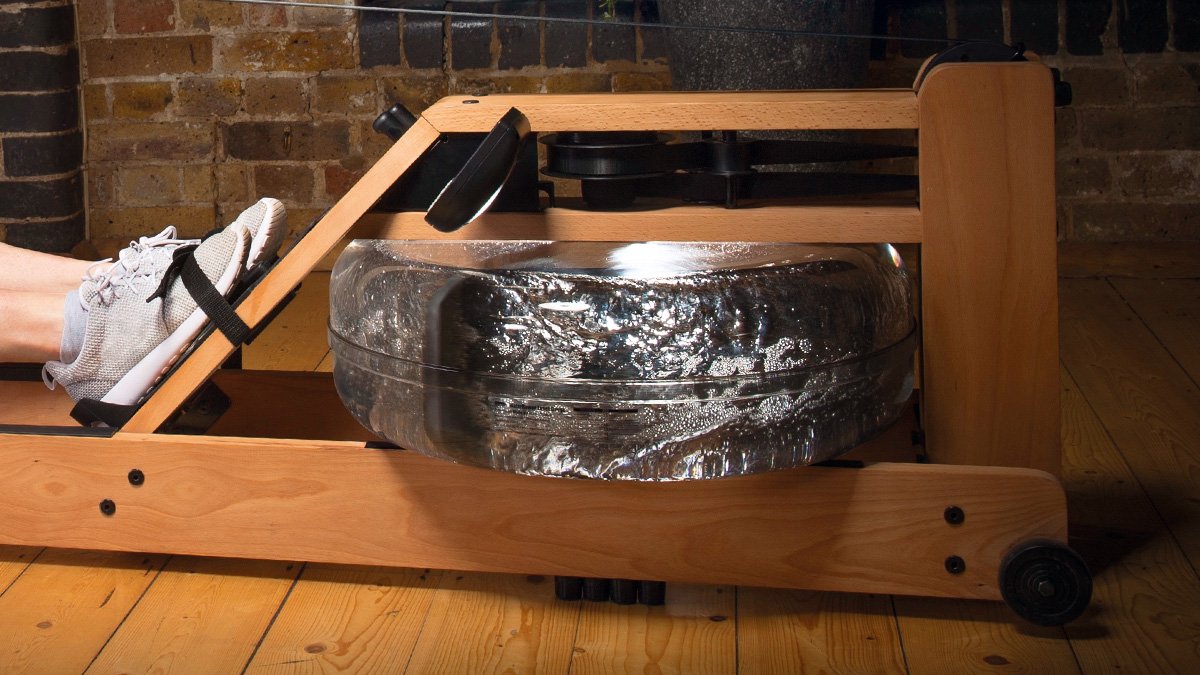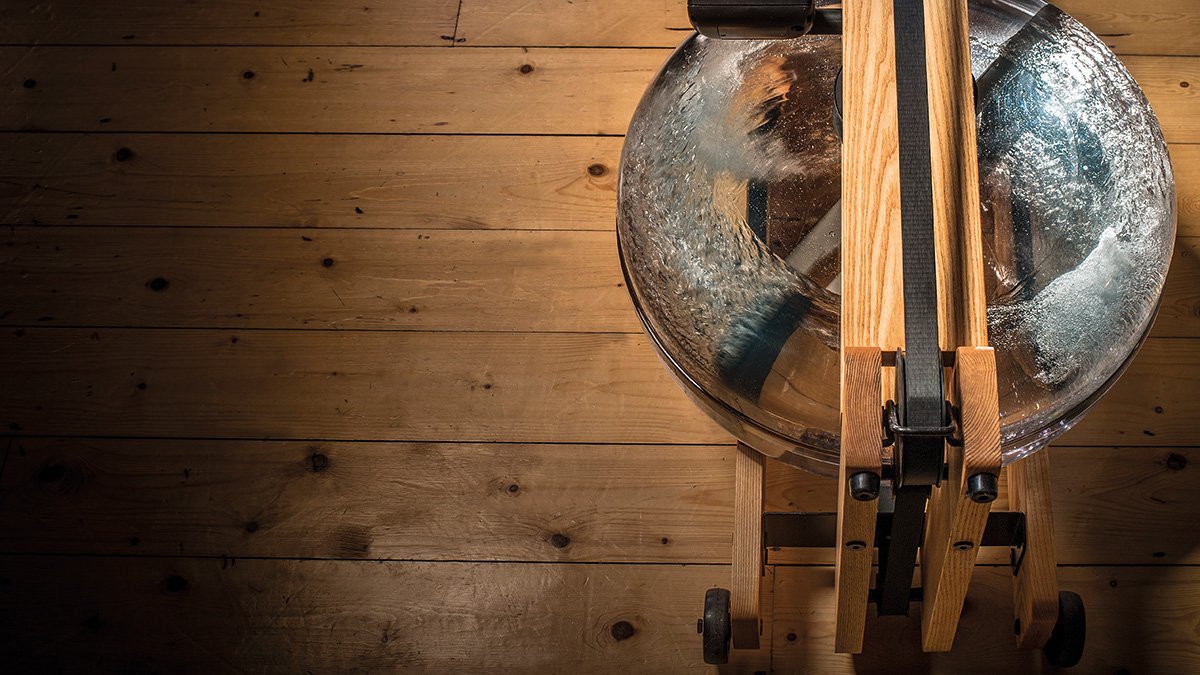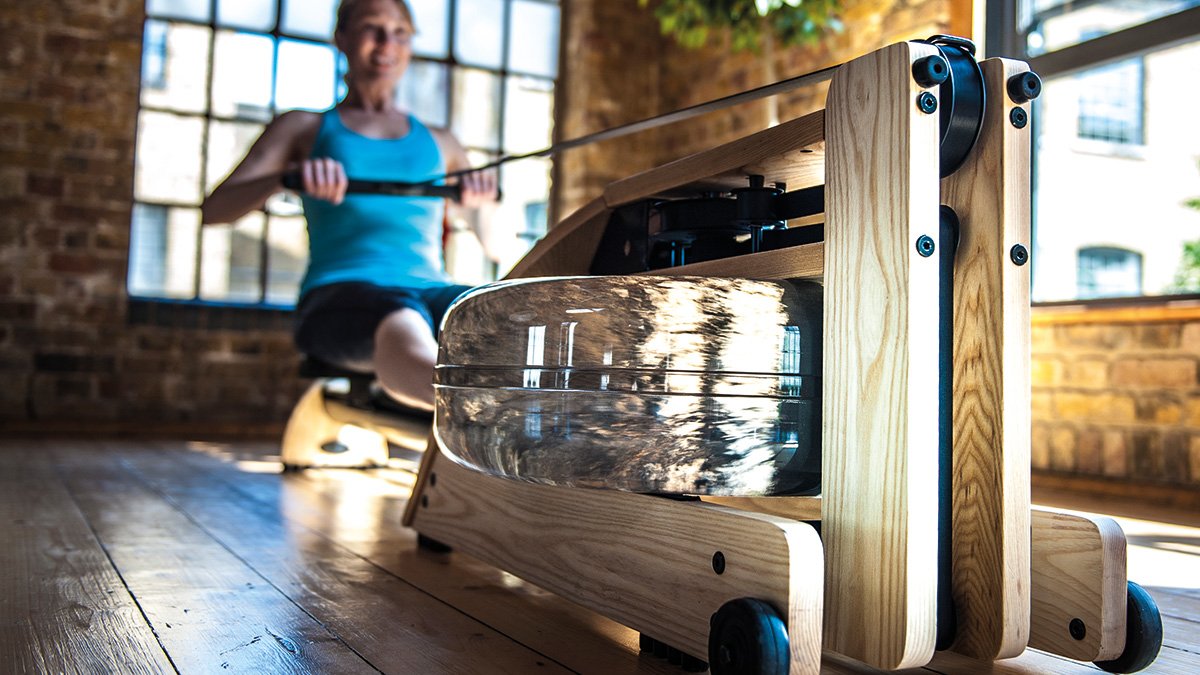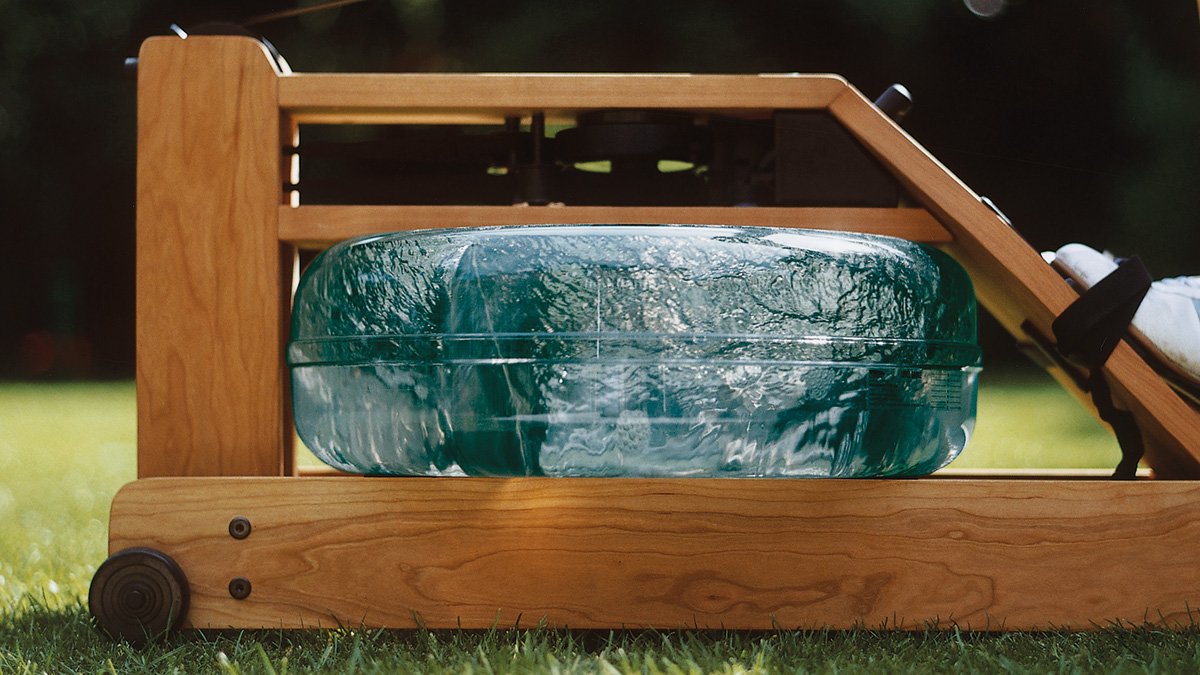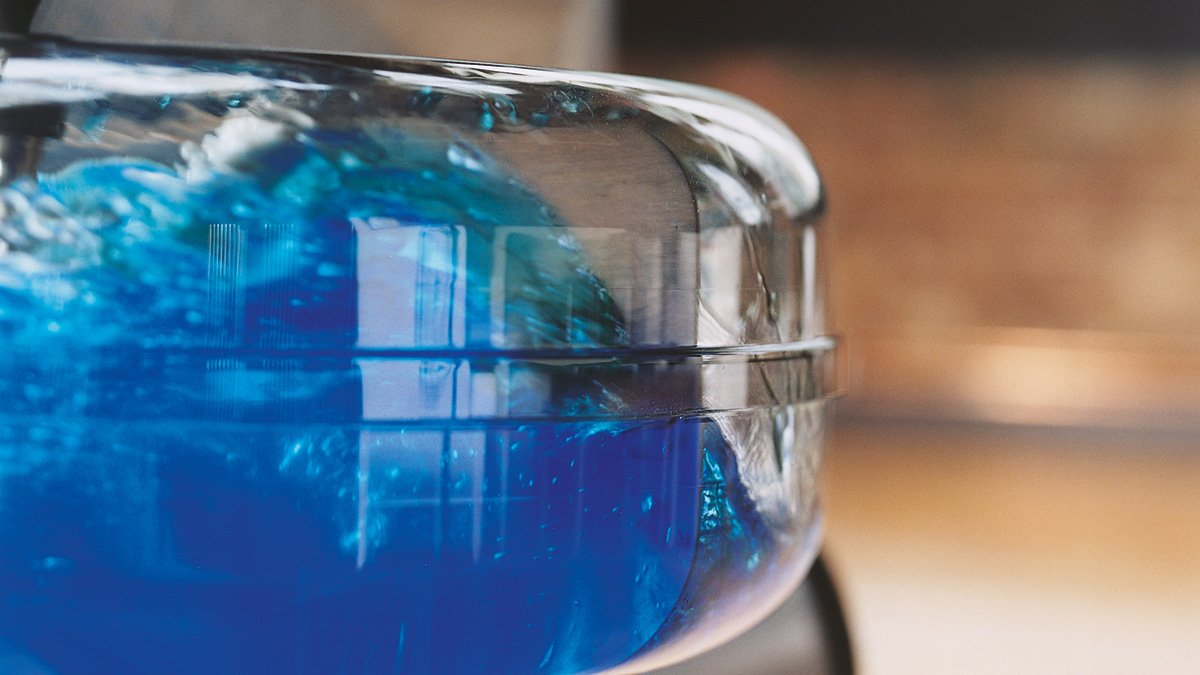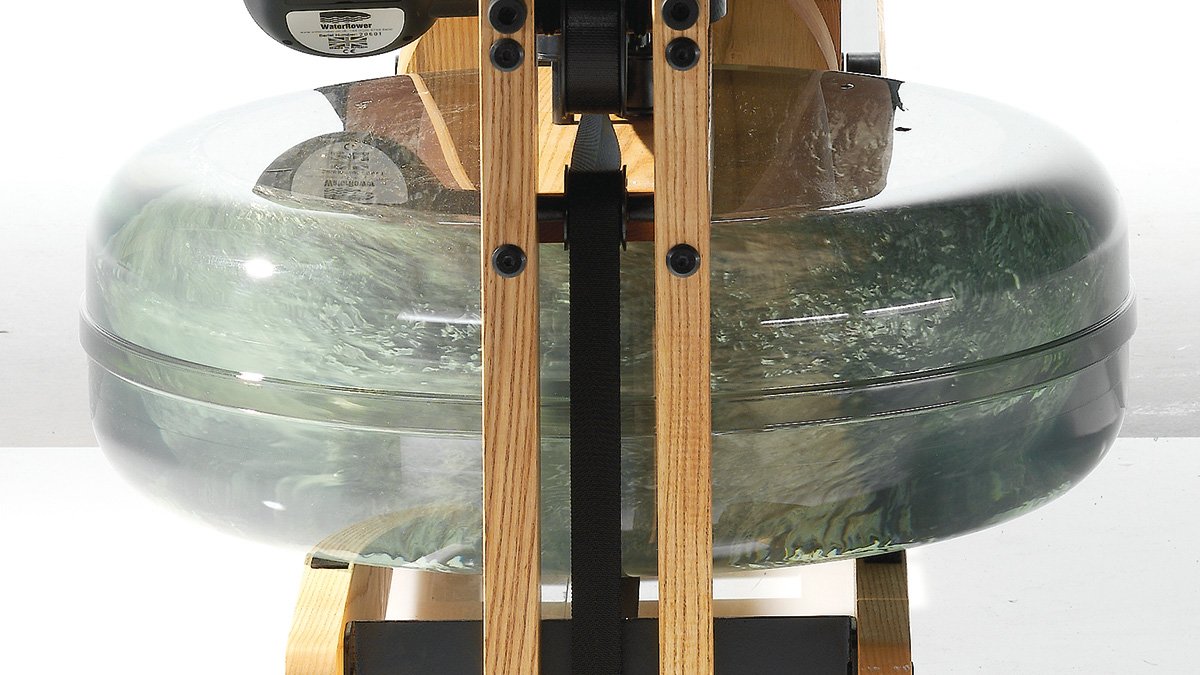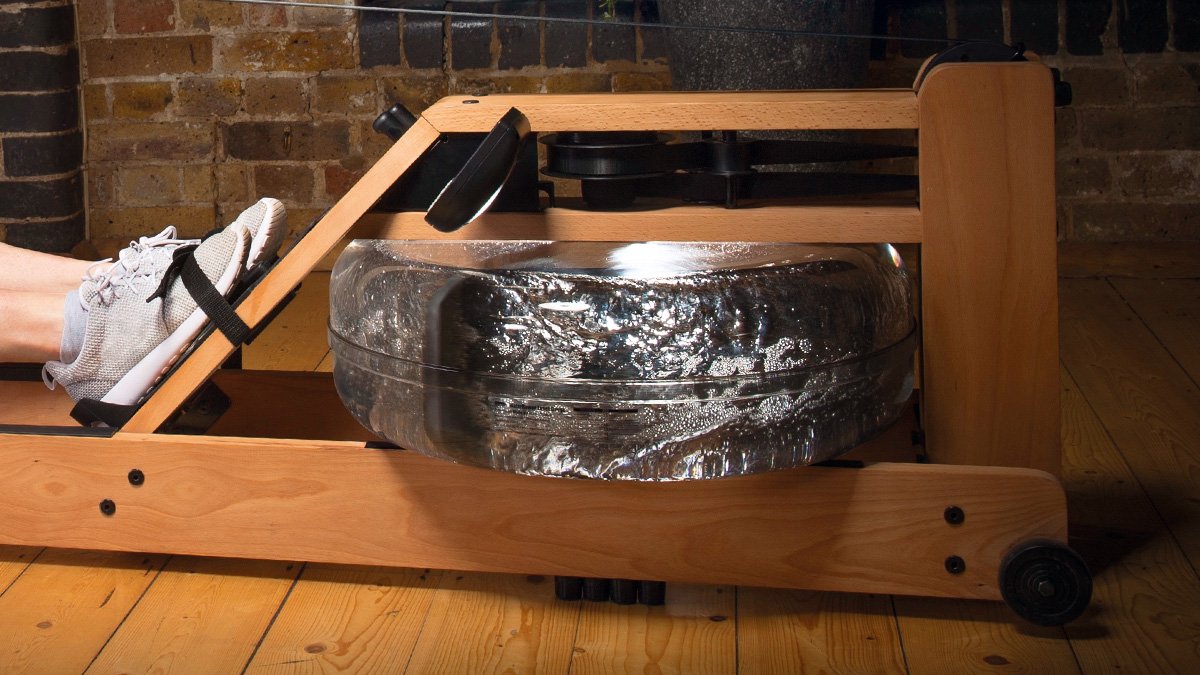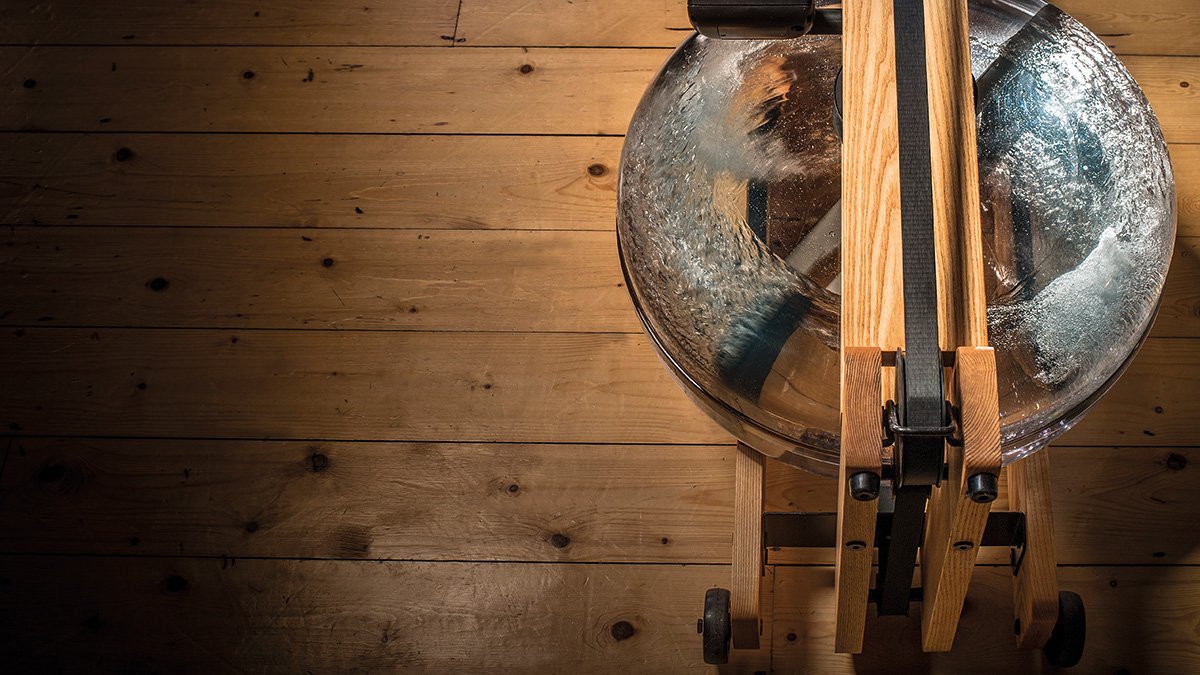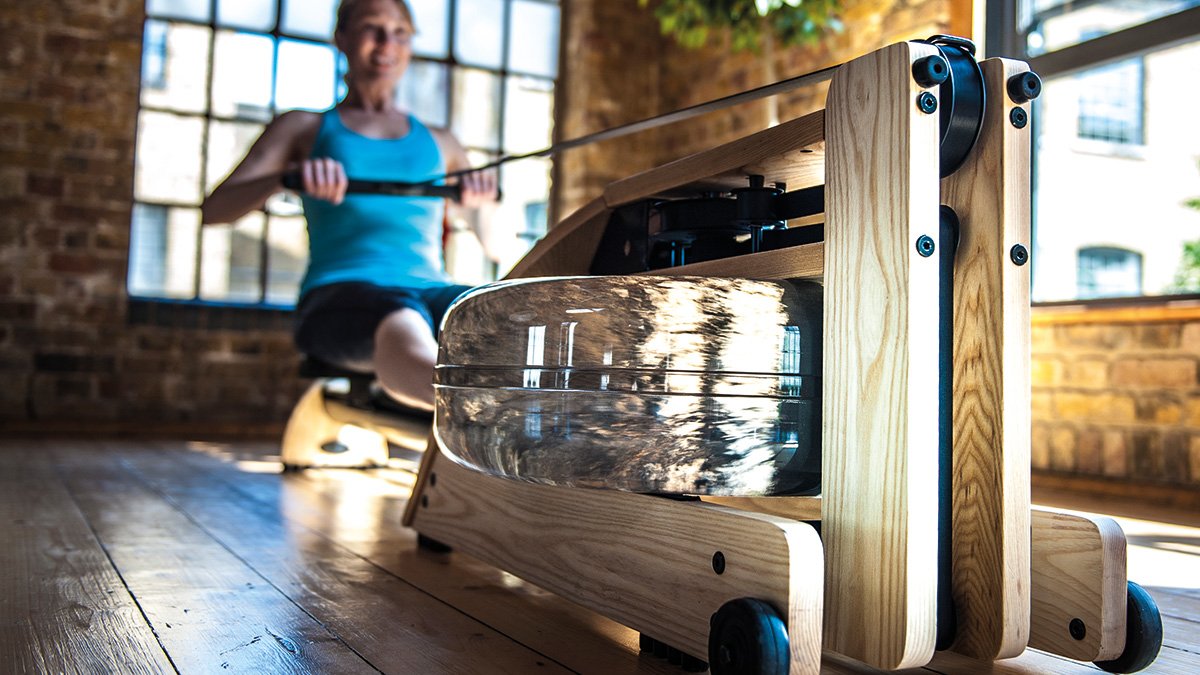 The heart of the WaterRower is its water tank and ergonomic paddle design.
This enables maximum stroke through water, resulting in an even, smooth and jerk-free resistance.
Water resistance is self-determining, meaning it precisely adjusts to the individual movement and strength input of the rower.
In real rowing, the skiff moves through the water based on muscular strength input. Scullers experience water's resistance with the pull of their oars. The WaterRower truly simulates the outdoor rowing experience through its use of water as resistance.
Advantages of water resistance:
- pulling through water is gentle on your joints
- the amount of resistance is 100% self-determining
- training is calm and soothing, thanks to the pleasant, rhythmic swish of water
- water will show no signs of wear and tear- it's indestructable
The S4 - Performance Monitor
Your most important rowing data at a glance. Also compete online against other WaterRower owners using WeRow.
The S4 - Performance Monitor was specially designed for rowing training. During your workout, the following data will be displayed:
· intensity (speed) in meters per second (m/s) or in miles per hour (mph)
· 500m time or alternatively 2000m time (arbitrary)
· energy (watt) and calorie consumption per hour
· stroke (number of strokes per minute)
· distance in km or m (user-defined)
· time (user-defined)
· heart rate (with receiver and chest belt)
· zone training (total stroke count and time can be reviewed after workout)
---
The S4 - Performance Monitor can be used with the free rowing software  We-Row.
Rowing machines by comparison
In which ways are rowing machines superior to other fitness equipment and why is rowing so effective?
Rowing Machine Overview
Enjoy WaterRower's full-body workout for the results you want from your exercise and fitness routine - this machine trains strength and endurance in perfect proportion. A rowing workout uses 84% of the body's musculature, simultaneously, conditioning posture and cardiac cycle, as well as improving metabolism.

The selection of rowing machine brands and models is broad. However, if one carefully compares the ergometers, it becomes quite apparent, the WaterRower machine delivers the most advantages to the user.
The Resistance Factor
Aside from the fundamental question of personal fitness and exercise goals, the exercise machine's resistance system should be closely considered, when thinking of factors such as living situation or exercise space. Rowing machines with an air wheel are effective but are substantially louder when in use, potentially causing disturbance to neighbors or other house or family members.

Exercise systems using water resistance are consistently quiet and efficient when in full use. Due to its patented paddle and water tank, exercise intensity is infinitely variable - the harder you pull, the higher the intensity level. Rowing machines with magnet or hybrid resistance have their own benefits and disadvantages. However, these machines do not allow you to regulate the resistance during your workout, unlike rowing with water resistance. Furthermore, inexperienced users will tend to set the resistance at too high a level, often increasing risk of injury.

Thanks to water resistance, the WaterRower can provide a demanding, yet joint-friendly, full-body workout for users of all fitness levels. The rushing of water to the beat of your stroke is a pure sensory pleasure during your workout.
Fitness Equipment Made of Wood
What happens to your equipment, post-workout? Do you keep it in a back room? Basement? Or is it part of your interior design? The trend is increasingly heading toward "fitness furnishings" - sports equipment which is integrated into your everyday life. A workout machine, made of high-quality, solid wood, which can be moved in any direction and stood upright against a wall is highly commendable.

Each piece of wood used for a WaterRower machine is exclusively selected from sustainably managed forests in the USA. Only guaranteed young and smooth heartwood is used and processed by environmentally conscious methods. Wood is a natural resource which can deviate in color and consistency from tree to tree, hence rendering your WaterRower its unique status.

A WaterRower rowing machine is not a disposable piece of fitness equipment, but rather a high-end element of style.
---
 Why Rowing?
---
Physical inactivity is one of the major risk factors for illness caused by today's lifestyle, like chronic back pain or osteoarthritis of the joints. The right kind of activity, as well as the frequency with which you exercise will ensure that you remain energetic and flexible in the long run.
---
Exercising on a WaterRower can result in 50 total movements per minute. This is an excellent figure that will help you prevent a wide range of health issues connected to today's lifestyle - all thanks to rowing's highly effective motion impulses on your joints. Rowing guarantees low-impact training with its fluid and smooth movement protecting your joints. There are no jerking twists or jumps, yet the movement remains intense and demanding. There is an exceptionally low risk of over-straining, with the WaterRower's patented WaterFlywheel and self-determining water resistance. Train consistently for fast and measurable results in resilience and performance.
Low-impact training for the following areas:
· shoulders
· elbows
· lower back
· hips
· knees
· ankles
---
Caution: Rowing machines based on conventional resistance methods may harm your joints. WaterRower's signature water resistance is completely self-determined by the user. Resistance increases and decreases automatically to your individual strength input, resulting in a consistently healthy, smooth and enjoyable workout.
Rowing exercise engages 84% of your muscular system, including abs, glutes, back and legs. Hardly any other endurance sport proves this effective, making rowing a complete, full-body workout, suitable for efficiently increasing overall condition.
The drive phase works the following muscle groups:
· calf muscles (Triceps surae)
· hamstrings (Ischiocrurale muscles)
· quads (Quadriceps femoris)
· glutes (Glutaeus maximus)
· lower back / obliques (Erector spinae/ Ext. oblique abdominal)
· upper back (Trapezius)
· lats (Latissimus dorsi)
· shoulders (Deltoideus)
· biceps (Biceps brachii)
· abs (Rectus abdominis)
· tibia and fibula muscles (tibialis post., fibularis long.)
· flexor muscles of the fingers (flexor digitorm superficialis/profundus)
The recovery phase works the following muscle groups:
· shin muscles (Tibialis anterior / Exterior digitorum longus)
· knee extensors (Ischiocrurale muscles)
· abs (Rectus abdominis)
---
 Effective and Healthy
---
Rowing exercise further promotes functional muscles. Ideally, muscles should be resilient to enhance overall performance, while also supporting optimal posture. Thanks to rowing's many specific demands on the body, this kind of training will ensure an efficient cardiovascular workout. Combined with a high calorie burning effect, a rowing workout remains superior to stationary bike or crosswalk exercise- not to mention: rowing against water resistance has a huge fun factor.
---
Technique and Exercises
Rowing is a gentle, flowing, continuous motion. Each stroke should be performed without interruption in order to achieve maximum benefits of this fluid workout.
Avoid sudden or jerky movements. Each stroke should flow continuously into the next. The correct rowing technique consists of the effective combination of two fundamental phases.
1. Recovery Phase
---
---
The Recovery Phase
The starting position of the recovery phase is the point of the end of the pull phase.
- long, straight back; chin raised, eyes looking straight ahead
- legs completely extended, feet both firmly against the foot rest
- grip bar pulled to below chest, elbows at body
- from hips, upper body leaning slightly back (11 o'clock)
- shoulders slightly behind hip position
1. The rowing motion starts with outstretched arms.
- long, straight back, chin raised, eyes looking straight ahead
- swiftly reach arms forward
---
2. Now the upper body moves forward.
- upright posture, straight back, chin raised, eyes looking straight ahead
- legs completely extended, feet both firmly against footrest
- shoulders relaxed, arms fully extended
- from the hips, bend upper body slightly forward (1 o'clock)
- shoulders are in front of hips
---
3. Body moves into compact, front position.
- arms and upper body remain in forward leaning (1 o'clock) position
- glide seat forwards
- knees and hips bend evenly and simultaneously (make sure your knees bend behind the grip)
- gliding forward is slow and controlled (this phase is for recovery)
- slow down shortly before reaching frontmost position
---
The Drive Phase
4. Knees extended.
- active, upright posture with straight back
- extend knees and hips in powerful motion (arms stay straight)
- feet push hard against footrest
- leg and torso strength transferred to grip through outstretched arms
- extend knees completely while pulling shoulder blades back
---
Watch our video on rowing technique:
WaterRower Rowing Machines / Model Overview
---
WaterRower Rowing Machine A1 home

Dimensions / Weight
Length: 215 cm / 84.6''
Width: 56 cm / 22''
Height: 53 cm / 21''
Weight: 28,0 kg / 61.7 lb
Seat height: 26 cm / 10.2''
Max. weight load: 130 kg / 286.6 lb
Max. water filling quantity: 20 l / 21.1 qt
Technical Details
# rails: 1
# packages: 2
Monitor: without USB
Materials: wood, aluminum
Usable with We-Row: no
Usable with laptop holder: yes
Usable with HiRise adapter: no
Usable with heart rate display: no
Cover available: no
XL-rails available: no
---
WaterRower Rowing Machine Natural

Dimensions / Weight
Length: 210 cm / 82.7''
Width: 56 cm / 22''
Height: 53 cm / 21''
Weight: 30.5 kg / 67.2 lb
Seat height: 31.0 cm / 12.2''
Max. weight load: 150 kg / 330.7 lb
Max. water filling quantity: 20 l / 21.1 qt
Technical Details
# rails: 2
# packages: 2
Monitor: S4-Performance Monitor with USB
Materials: wood (ash)
Usable with We-Row: yes
Usable with laptop holder: yes
Usable with HiRise Adapter: yes
Usable with heart rate display: yes
Cover available: yes
XL-rails available: yes
---
WaterRower Rowing Machine Club

Dimensions / Weight
Length: 210 cm / 82.7''
Width: 56 cm / 22''
Height: 53 cm / 21''
Weight: 30.5 kg / 67.2 lb
Seat height: 31.0 cm / 12.2''
Max. weight load: 150 kg / 330.7 lb
Max. water filling quantity: 20 l / 21.1 qt
Technical Details
# rails: 2
# packages: 2
Monitor: S4-Performance Monitor with USB
Materials: wood (ash with black and rose stain)
Usable with We-Row: yes
Usable with laptop holder: yes
Usable with HiRise Adapter: yes
Usable with heart rate display: yes
Cover available: yes
XL-rails available: yes
---
WaterRower Rowing Machine Oxbridge

Dimensions / Weight
Length: 210 cm / 82.7''
Width: 56 cm / 22''
Height: 53 cm / 21''
Weight: 30.5 kg / 67.2 lb
Seat height: 31.0 cm / 12.2''
Max. weight load: 150 kg / 330.7 lb
Max. water filling quantity: 20 l / 21.1 qt
Technical Details
# rails: 2
# packages: 2
Monitor: S4-Performance Monitor with USB
Materials: wood (cherry)
Usable with We-Row: yes
Usable with laptop holder: yes
Usable with HiRise Adapter: yes
Usable with heart rate display: yes
Cover available: yes
XL-rails available: yes
---
WaterRower Rowing Machine Classic

Dimensions / Weight
Length: 210 cm / 82.7''
Width: 56 cm / 22''
Height: 53 cm / 21''
Weight: 30.5 kg / 67.2 lb
Seat height: 31.0 cm / 12.2''
Max. weight load: 150 kg / 330.7 lb
Max. water filling quantity: 20 l / 21.1 qt
Technical Details
# rails: 2
# packages: 2
Monitor: S4-Performance Monitor with USB
Materials: wood (walnut)
Usable with We-Row: yes
Usable with laptop holder: yes
Usable with HiRise Adapter: yes
Usable with heart rate display: yes
Cover available: yes
XL-rails available: yes
---
WaterRower Rowing Machine M1 HiRise

Dimensions / Weight
Length: 223 cm / 87.8''
Width: 56 cm / 22''
Height: 69 cm / 27.2''
Weight: 36.0 kg / 79.4 lb
Seat height: 51.0 cm / 20.1''
Max. weight load: 180 kg / 396.8 lb
Max: water filling quantity: 20 l / 21.1 qt
Technical Details
# packages: 3
Display version: S4-Display with USB
Materials: Aluminum
Usable with We-Row: yes
Usable with laptop holder: no
Usable with HiRise adapter: no
Usable with heart rate display: yes
Cover available: no
XL- rails available: no